Social pain, anger at ecological degradation and the inability of traditional politics to address deep economic failings has fueled an extraordinary amount of practical on-the-ground institutional experimentation and innovation by activists, economists and socially minded business leaders in communities around the country.
A vast democratized "new economy" is slowly emerging throughout the United States. The general public, however, knows almost nothing about it because the American press simply does not cover the developing institutions and strategies.
For instance, a sample assessment of coverage between January and November of 2012 by the most widely circulated newspaper in the United States , the Wall Street Journal, found ten times more references to caviar than to employee-owned firms, a growing sector of the economy that involves more than $800 billion in assets and 10 million employee-owners — around three million more individuals than are members of unions in the private sector.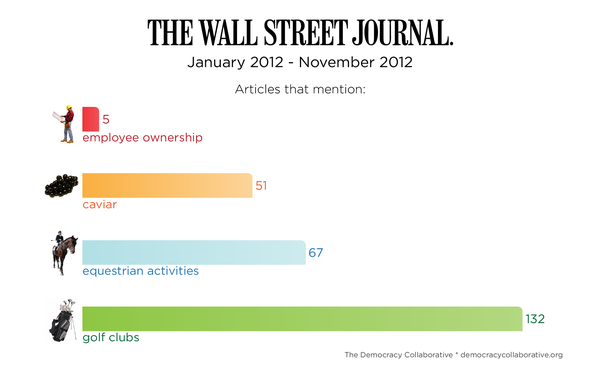 Worker ownership — the most common form of which involves ESOPs, or Employee Stock Ownership Plans — was mentioned in a mere five articles. By contrast, over 60 articles referred to equestrian activities like horse racing, and golf clubs appeared in 132 pieces over the same period.